How to clean and impregnate your Tipi


Hur du tvättar och impregnerar ditt Tipi


So waschen und imprägnieren Sie Ihr Tipi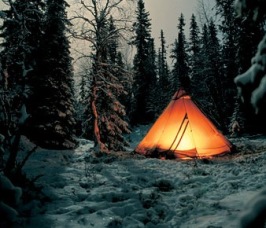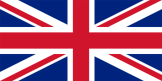 Acapella Cleaner är framtagen för kraftiga tyger
såsom tält från Armén, kapell och markiser.
Acapella Cleaner vann ett test i dánska tidningen Baatnytt nr 532.

I Acapella Renoveringsmedel får du en förstklassig impregnering samt
ett medel som motverkar mögelskador. En enda
behandling ger ditt tält ett mycket bra skydd under
flera år. Acapella Renoveringsmedel skiljer sig mot andra impregneringsmedel på marknaden. Vi använder inte vax, teflon eller silikon.
Dessa medel lägger sig ovanpå tyget och slits därför bort fortare av solen och vädret.
Acapella tränger ner i fibrerna och stannar där.

Acapella Cleaner wurde für kräftige Stoffe
wie Armeezelte, Bootsverdecke und Markisen hergestellt. Testsieger der dänischen Fachzeitschrift für Boote "Baadnytt" 2017.

Mit Acapella Renovierungsmittel erhalten Sie eine erstklassige Imprägnierung sowie
ein Mittel, das Schäden durch Schimmel entgegenwirkt. Eine einzige
Anwendung bietet Ihrem Zelt mehrere Jahre
sehr guten Schutz. Acapella Renovierungsmittel unterscheidet sich von anderen
Imprägnierungsmitteln auf dem Markt. Wir verwenden kein Wachs, PTFE oder Silikon.
Diese Mittel legen sich auf den Stoff und werden daher schneller von Sonne und Wetter verschlissen.
Acapella dringt in die Fasern ein und verbleibt dort.
Acapella Cleaner has been developed for heavy fabrics such as army tents, boat covers and awnings.
Awarded "Best in Test" 2017 by the Danish boating magazine Baadnytt.

With Acapella Renovation Fluid you receive first-class impregnation and protection against mildew. A single treatment provides your tent with excellent protection for several years. Acapella Renovation Fluid is different from other impregnating agents on the market. We do not use wax, PTFE or silicone.
These substances form a layer on top of the fabric and are therefore worn away more quickly by the sun and weather. Acapella penetrates down into the fibres and stays there
1. Börja med att blöta duken, jobba sektion för sektion. Arbeta in Acapella Cleaner med hjälp av en mjuk borste och ljummet vatten. Skall du tvätta bort riktigt svåra fläckar och smuts som sot, rekommenderar vi att du har en högre dos. Prova dig fram. Observera att Acapella Cleaner skadar inte din duk, även om du inte späder vätskan.
1.Beginnen Sie mit dem Einweichen des Tuches und arbeiten Sie abschnittsweise. Arbeiten Sie Acapella Cleaner mit einer weichen Bürste und lauwarmem Wasser ein. Wenn Sie hartnäckige Flecken und Schmutz wie Ruß abwaschen müssen, empfehlen wir Ihnen eine höhere Dosierung. Probieren Sie es aus. Beachten Sie, dass Acapella Cleaner dem Stoff nicht schadet, auch wenn Sie das Mittel nicht verdünnen.
1. Start by wetting the canvas, working section by section. Work the Acapella Cleaner into the fabric with the help of a soft brush and lukewarm water. We recommend that you use a higher concentration if you need to remove really difficult stains or dirt e.g. soot. Try different concentrations to see what works best. Please note that Acapella Cleaner will not damage your canvas, even if you do not dilute it with water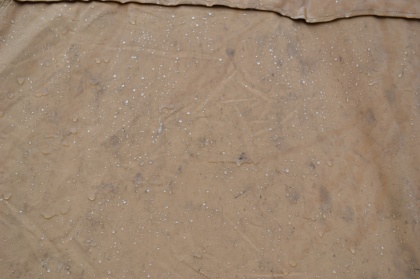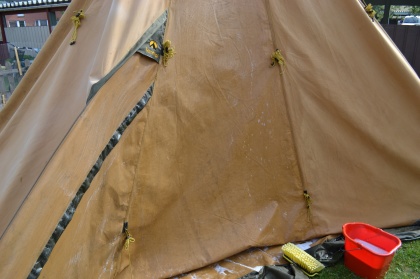 2. Låt Acapella Cleaner få verka. Låt verka längre vid svårare smuts. Vi lät medlet verka i en timma för att ge medelt tid att tränga ner i fibrerna och lösa det feta i soten. Använd en mjuk borste för att tvätta duken nu. Spola sedan av duken riktligt med vatten. Det är viktigt att duken blir skjöljd från smutsen innan man lägger på en ny impregnering. Låten sedan duken bli helt torr. Arbeta inte för nära med högtryckstvätten, en trädgårdsslang funkar bra den också!
2. Lassen Sie Acapella Cleaner einwirken. Bei stärkerem Schmutz lassen Sie das Mittel länger einwirken. Wir haben das Mittel eine Stunde einwirken lassen, damit es Zeit hat, in die Fasern einzudringen und das Fett aus dem Ruß zu lösen. Verwenden Sie eine weiche Bürste, um das Tuch zu waschen. Spülen Sie danach den Stoff gründlich mit Wasser ab. Es ist wichtig, dass der Stoff vor dem Auftragen einer neuen Imprägnierung vom Schmutz befreit wird. Den Stoff danach vollständig trocknen lassen. Arbeiten Sie nicht zu nah mit einem Hochdruckreiniger. Ein Gartenschlauch funktioniert ebenso gut!
2. Allow the Acapella Cleaner to work. The time allowed should be increased for really difficult stains or dirt. We allowed the solution to work for an hour in order to give it time to penetrate down into the fibres and dissolve the grease in the soot. Use a soft brush to wash the cloth now. The canvas should then be thoroughly rinsed off with water. It is important to ensure that all dirt has been rinsed off the canvas before applying a new impregnation. The canvas should then be allowed to dry completely. Do not work too close to the canvas with high-pressure water - a normal garden hose also works just fine.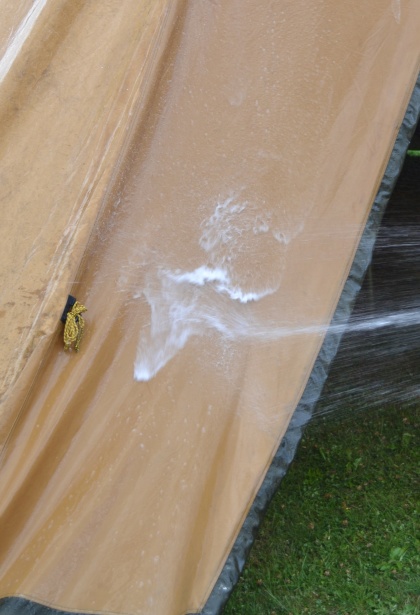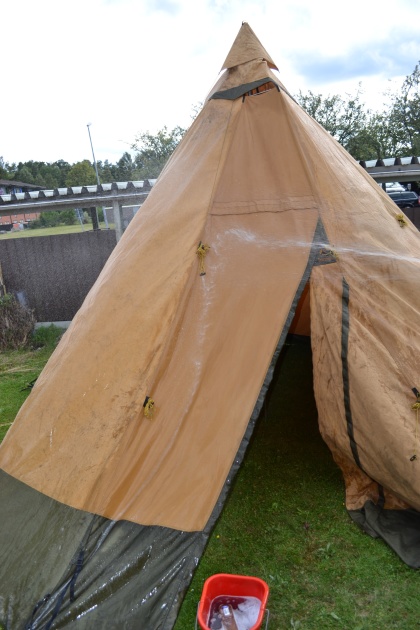 3. Efter att duken har torkat är det sedan dax att stryka på Acapella Renoveringsmedel som innehåller impregnering samt medel som motverkar fuktskador. När du har strukit på Acapella på duken kan en mjölkig hinna uppstå. Denna försvinner snabbt och medlet blir genomskinligt.
Stryk på med en bra målarpensel, pensla gärna en extra gång i sömmarna.

3. Nachdem der Stoff getrocknet ist, wird es Zeit, Acapella Renovierungsmittel aufzutragen. Es ist ein Imprägnierungsmittel und wirkt gleichzeitig Feuchtigkeitsschäden entgegen. Nach dem Auftragen von Acapella ist es möglich, dass sich ein milchiger Film bildet. Dieser verschwindet schnell und das Mittel wird transparent. Verwenden Sie zum Auftragen einen Malerpinsel. Streichen Sie im Sommer vorzugsweise ein weiteres Mal.
3. Once the canvas is completely dry, it is time to apply the Acapella Renovation Fluid for impregnation and protection against moisture damage. When you have applied the Acapella fluid, a milky film may form. This disappears quickly and the solution becomes transparent.
Apply the product with a good paintbrush, and feel free to work the brush a little extra in and around the seams.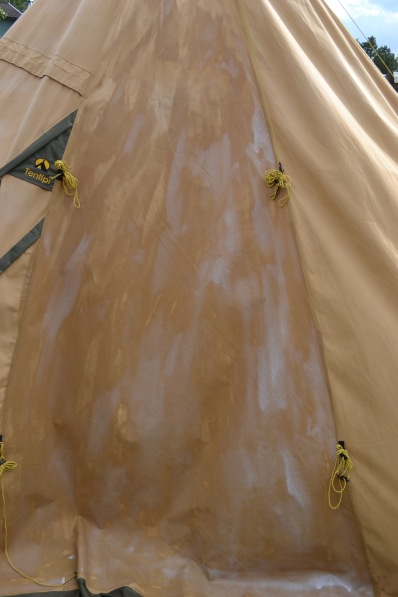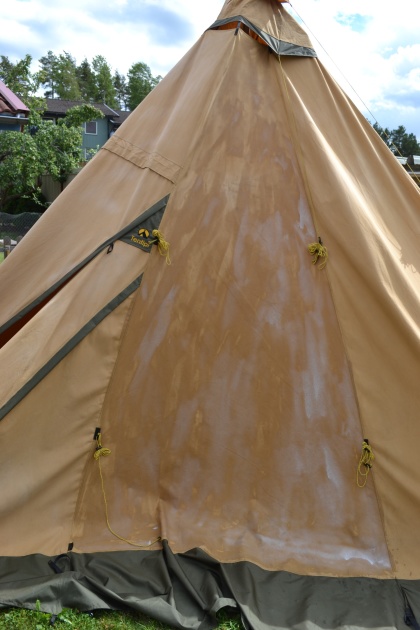 4. Låt tältet torka. Undvik att jobba i starkt solsken.
Skillnaden är stor mellan före och efter som dom båda bilderna visar.
4. Das Zelt trocknen lassen. Vermeiden Sie, in starker Sonneneinstrahlung zu arbeiten.
Der Unterschied zwischen vorher und nachher ist groß, wie auf den Bildern zu sehen ist
4. Let the tent dry. Avoid working in strong sunshine.
As shown in the pictures, there is a major difference before and after application.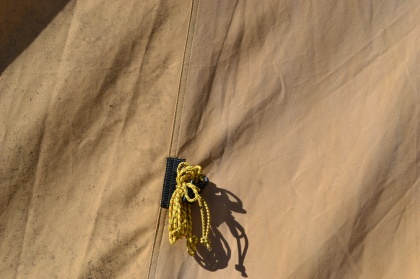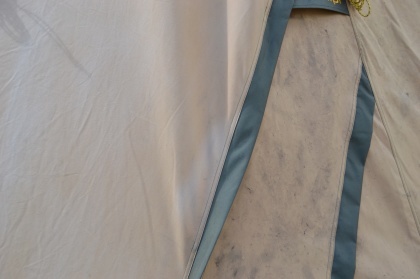 Acapella Renoveringsmedel är unikt i sitt slag och utvecklad i Sverige för nordiska väderförhållanden. Acapella Renoveringsmedel impregnerar och motverkar fuktskador på kapell, markiser och tält m.m. 1 liter räcker till ca 3-6 m². En behandling håller i 3-4 säsonger. Acapella Renoveringsmedel har funnits på den nordiska marknaden i 40 år. Medlet är ursprungligen framtaget för svenska och norska armén.



Nedan ser du tvättråd samt råd om hur mycket impregnering du skall använda för dom olika modellerna från Tentipi
Acapella Renovierungsmittel ist einzigartig in seiner Art und wurde in Schweden für die nordeuropäischen Wetterverhältnisse entwickelt. Acapella Renovierungsmittel imprägniert und wirkt Feuchtigkeitsschäden an Bootsverdecken, Markisen und Zelten usw. entgegen. 1 Liter ist für ca. 3-6 m² ausreichend. Eine Behandlung hält 3–4 Saisons. Acapella Renovierungsmittel gibt es seit 40 Jahren auf dem nordeuropäischen Markt. Das Mittel wurde ursprünglich für die schwedische und norwegische Armee.


Im Folgenden finden Sie Waschhinweise sowie Ratschläge, wie viel Imprägnierung Sie für die verschiedenen Modelle von Tentipi verwenden sollen
Acapella Renovation Fluid is a unique product that has been developed in Sweden for Nordic weather conditions. Acapella Renovation Fluid impregnates and protects against mildew on boat covers, awnings and tents etc. 1 litre is sufficient for an area of approx. 3-6 m². One treatment lasts for 3-4 seasons. Acapella Renovation Fluid has been available on the Nordic market for 40 years. The product was originally developed for use by the Swedish and Norwegian armies.



Below you will find washing instructions as well as advice on how much impregnation you should use for the various models from Tentipi

CLEANING WITH ACAPELLA CLEANER
Adventure 5. 4 dl cleaner + 3 l water
Adventure 7. 5 dl cleaner + 4.5 l water
Adventure 9. 7 dl cleaner + 6.5 l water
Adventure 15. 8 dl cleaner + 7.5 l water
Nimbus 16. 5 dl cleaner + 4,5 dl water
Granit 14. 8 dl cleaner + 8 l water
Granit 21. 1 l cleaner + 11 l water
Granit 40., 2.5 l cleaner + 22.5 l water
Cirrus 20. 1.5 l cleaner + 13.5 l water
Cirrus 28,. 2 l cleaner + 21 l water
Cirrus 40. 3.5 l cleaner + 31.5 l water
Cirrus/Stratus 72. 4 l cleaner + 36 l water
Cirrus 200. 7 l cleaner + 63 l water

IMPREGNATING
Adventure 5. 3 l impregnating agent + 6 dl water
Adventure 7. 4 l impregnating agent + 8 dl water
Adventure 9. 6 l impregnating agent + 1.2 l water
Adventure 15. 7 l impregnating agent + 1.4 l water

Do not dilute the impregnating agent when treating the Nordic tipis below.
Granit 14. 9 l impregnating agent
Granit 21. 12 l impregnating agent
Granit 40. 25 l impregnating agent
Cirrus 20. 15 l impregnating agent
Cirrus 28. 23 l impregnating agent
Cirrus 40. 35 l impregnating agent
Cirrus/Stratus 72. 40 l impregnating agent
Cirrus 200. 70 l impregnating agent