Acapella Renovationfluid impregnates, counteracts moisture damage
and colours boat covers, awnings and tents etc.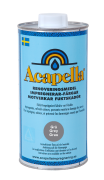 New products 2018
For spring 2018, Acapella Renovation Fluid will be available in one new colour – grey. In recent years we have received increasing demands from our customers to produce grey. The market is changing, and fashions with it. We have researched the right formula for this new colour and are now ready to launch it to the market.
Guaranteed tight for 2 years!
No other impregnation agent on
The market guarantees its efficiency.
Acapella Cleaner gives you 2 years guarantee!

Acapella Renovation Fluid is the only product in the world that impregnates, protects against mildew and improves colour in your canvas in a single process.

Acapella Renovation Fluid was originally developed for Swedish and Norwegian army tents in the 50´s.
Acapella Renovation Fluid
impregnates, counteracts moisture damage
and colours boat covers etc.
Acapella Cleaner
to be nice to your fabric, we don´t use chlorine!
1*10 liters
Acapella Eazy Dry Impregnation


last longer!




We don´t use wax, PTFE or silicone
Products can be offered in 20 liter containers for the proffessionall market
Acapella Renovation Fluid has helped thousands of boat owners extend the lifetime of their boat covers. The product is unique and has been developed in Sweden for Nordic weather conditions. Acapella Renoveringsmedel impregnates, counteracts moisture damage and colours boat covers, awnings and tents etc. One litre covers approx. 3-6 m². One treatment lasts for 3-4 seasons. Acapella Renovation Fluid has been available on the Nordic market for 40 years, and was originally developed for the Swedish and Norwegian armies. Ideal for waterproofing bimini tops, boat covers. Helps prevent rot and mildew, repels stains and bird droppings. Different clours.
Acapella Cleaner was developed in Sweden for Swedish weather conditions. Acapella Cleaner is the ideal choice when you want your boat cover to be really clean. Every season, your boat cover has to cope with a great deal from the natural environment, which ultimately causes damage to the canvas. For the best possible results, use Acapella Cleaner before using Acapella Renoveringsmedel. Other cleaning agents, as clorin, can damage your boat cover as they were often not specially developed for boat cover canvas. Effective against seagull droppings, salt, dirt and tough spots.
Acapella Cleaner is without chlorine!
Acapella Eazy Dry Textil impregnation gives your boat cover extremely effective water-repellent impregnation. The impregnation agent is also effective for outdoor clothing such as jackets, membrane garments, children's snowsuits, bags, sports shoes etc. It works extremely well on both synthetic and natural fibres. The product is colourless and one bottle is enough for approx. 4-6 m².

We don't use silicon, PTFE or
wax in our products.
Read more on the right.
This is why Acapella Renoveringsmedel works better than similar products:
Other products can contain silicon or wax. These form a layer on top of the fabric and are therefore worn away more quickly by the weather. If you want to colour your boat cover after you have applied a silicon or wax-based product, there is a strong risk that the result will be patchy as the product will not be able to penetrate the fibres.
Acapella Renoveringsmedel contains a component that transports the impregnation, mildew protection and colour agent down into the fabric, where it stays. That's why you get better results with
Acapella Renoveringsmedel.
RESELLERS REQUIRED
FOR THE UK, USA, CANADA, CHINA, FRANCE, ITALY, FINLAND, NETHERLANDS, BELGIUM, AUSTRALIA AND SPAIN,
CONTACT US NOW